The best Dommes, Submissives, vanilla, Phone Sex and sexy entertainment available on the internet. All of the people here are on Niteflirt. http://www.niteflirt.com @bestoftheflirts
Wednesday, February 12, 2020
Sunday, July 12, 2015
You'd think you didn't have to tell people this! But: from the Daily Flogger:
WACO, TEXAS
A local Texas dominant man has decided to pursue "communication" in an effort to save his failing relationship.
James Franks, 38, says his relationship started to take turn for the worse last month when he started having problems at work and started spending more time at the office. He was returning home from work "tired" and found himself increasingly irritable.
When slave tabitha approached him to find out what was wrong the answer was always the same: "I don't want to talk about it."
"It left me feeling confused and shut out. I don't need to know every little detail, but I do need to know what he is feeling and how things are affecting him," she told The Daily Flogger.
Franks told the slave, "Jesus? Really? I work 12 hours a day and when I come home you want to talk my fucking ear off about how my day was?"
Things came to a head when slave tabitha offered an ultimatum, "Talk to me or I am leaving."
It was at that point Franks thought there may be a problem.
Franks conceded and now makes sure to spend some time each day talking about how things "make him feel" and "telling his slave what he is thinking about things."
"It's weird," Franks told us, "she just wants to hear things, but she rarely has any concrete suggestions or solutions to problems, she just wants to know what is going on. Then she tells me her problems and I tell her how to fix them."
Slave tabitha considers that progress. "It is nice that he can finally tell me know he feels. We're working on the listening part, but progress is progress, right?"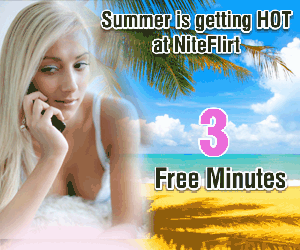 Monday, May 18, 2015
http://phonesexblog.niteflirt.com/ (this is Niteflirt's blog, great stuff!)
https://twitter.com/flirtblogs (flirt blogs, for flirts that blog!)
https://twitter.com/NiteFlirtWorld (another lover of all things Niteflirt)

There are gals (even on this blog) that webcam, do recordings and anything you can imagine!
Lastly: Niteflirt sponsors the fan award at AVN! Pretty cool. This and much more as to why Niteflirt is the place to go to for the bext phone sex.
Saturday, October 27, 2012
Talking about my weakness for shoes brought to mind another thing I really like. Dressing up in elegant, yet sexy clothes. The feel of the silk against my legs as I pull the stockings up to the garters, the way the diamond necklace lays over my exposed collar bone in the low cut evening gown, the way the arm length satin gloves sparkle as I take the wine glass from you. These are all good examples of how being able to make myself beautiful also gets me aroused.
Walking into the dinner party, on your arm looking my best is a special treat for me. Seeing the sidelong glances from both the men and the women, most of whom would love to be in your place being able to have me, the rest purely jealous of how well I carry being sexy and elegant at the same time just fuels my mischievous nature.
Wouldn't you like to feel my silk clad foot sliding in between your legs under the table, while I stare into your eyes, just a hint of playfulness hiding in my eyes? Or would you rather be able to run your hands over my taught ass as we dance, your other hand caressing the small of my back, feeling my skin react to your touch on my backless dress?
You know I enjoy it when you show me off as the trophy girl I like to be. I like it even more than you think, because I know you can't wait to get home with me to undress your Kiwi girl.
Wednesday, September 19, 2012
The original title of this blog entry was going to be "Fucking Furniture", and I didn't want to give the wrong impression. But now I'm thinking, but there are pieces of furniture that I've used to get off on. A chair, where I've rubbed myself against until I come, or even the corner of my bed. I'm a complete sex addict and just looking at something hard turns me on. That might be a bit of an exaggeration, but I just wanted to get that point across.
But this post is actually about furniture I like to fuck on. Looking around my apartment, I can say that I've had sex on every piece of furniture, or done something naughty on it. Hehe. I'm sure you can say the same about your own house, and if not I hope this will give you some ideas for when you're on the phone with me.
Can you think about how many pieces of furniture you would like to bend me over and fuck? There's chairs, which can be fun as long as they're armless. A bed which is of course very normal and ordinary, unless I'm tied to it and you're pounding me so hard, that I squirt while I come.
The other pieces of furniture I love to be fucked on are the couch, coffee table, bath tub, basin, sink and even the washing machine (which I know is not furniture, but still hot). I love trying out new furniture, and would love to test out my desk with you. Simply because when you call me, I am usually on the couch, floor or my bed, and I think it would be hot to bend over my desk and fuck myself to orgasm for you. So definitely call me on
NiteFlirt
, and if you don't have an account, get one! You get free minutes to join.
Feedback Spotlight:
Candace is always fun to take control of, it's obvious she enjoys serving as a good slut should. Treat yourself and let her kneel in front of you.
Sunday, September 16, 2012
I have to admit, the older the better. Especially in my case, I love older men. Simply because they are more adventurous, open-minded and kinky. They can make my world explode into a million different colors and orgasms, and I'm sure older men love to be with a young nubile submissive slut like me.
The other plus to being with an older man, they truly love to knock me up on the phone, especially when I beg to be knocked up. I want to be knocked up, to feel my belly grow with child, my breasts to begin to lactate and well, we all know how sweet breast milk can be. I want to be with older men, I find them to be my turn on, more so than younger guys. Don't get my wrong, I like younger guys too, but older men definitely make my pussy wet.
Sometimes I think I am the perverted one in a relationship, until I meet my match in an older man who has the same kinks and perversions that I have. Especially if they're over 40, and that's the huge turn on, when they can be twice my age, and I can be used, abused, owned and fucked by them!
I love older men, and hopefully get my turn ons to match with yours. Which is why
NiteFlirt
is so much fun, we can do anything we want, and be anything we want to be. We can even cross the realms of reality into fantasy and we can have a lot of fun together. Will you be my Older Man? I'll be your younger girl. We can tie in any kind of fantasy while we play with each other!
Saturday, September 15, 2012
There is nothing like being someone's dirty little secret, especially when I can tie that in with one of my biggest turn-ons!
Begging you to cheat on your wife with me, and you know I will be secretive and keep all your secrets, while I am being used like your dirty submissive slut. You can do anything you want to me, especially things your wife won't let you do, and all the while I will be begging you to cheat on your wife. To use me, and keep me as your dirty little secret. I won't tell anyone if you won't.
You can bend me over your kitchen table and take me from behind, I'll even beg you to fuck me anally! I'm sure that you can do what you want with me, even things you've never tried before. I like to be your dirty little secret, and it would feel really great if you could take me into your bed with me. I'll love it if you will come all over my face as I lay on your bed with my head hanging over the edge, my fingers playing inside my pussy! I can do anything you want, and we can have a lot of fun! It's always fun when it's not your wife.
Perhaps it is my favorite fetish, being a secret, and I'll be it's number one fan. I love it when we sneak out to your car while you're driving home from work, and we can ramble, or fuck. The choice is yours because I can be and will be your Dirty Little Secret, and you can call me on
NiteFlirt
at any time, 24 hours a day, 7 days a week to use your secret. Never used
NiteFlirt
before? Then join now and get free minutes and access to thousands of photos, videos and more! Just click the below link!
Feedback Spotlight:
Such a sexy voice.Great roleplay! Excellent at being submissive. She plays it perfectly. If you take the lead she will react on cue. I've only had one call with so far. Can't wait to try a different RP fantasy where she takes the lead.
Tuesday, September 11, 2012
That first ring of the phone always gets my heart pounding and my body tingling with anticipation of being used and allowed to serve a dominant man - to serve you. As I pick up the phone, you can hear the softest intake of breath before the first dulcet tones of my New Zealand accent lilt across the phone lines to caress your ears. As I slither from my bed onto my knees, ready to serve you, you can hear the breathless need and desire in my voice.
"I'm ready to serve you, Sir."
The words sound hesitant, nervous, showing the need to be found pleasing. The soft, desperate words of a subservient girl slipping like lava from fuck-able lips, and the light moistening of a wet tongue as it slips across the soft pillows of my lower lip. Begging to know what it is you want from me, I ask in simple respect.
"What would you like me to do first, Sir?"

Would you like to continue this fantasy? Pick your own version of events!
You will enjoy choosing your own fantasy.
Monday, September 10, 2012
Everybody has a favorite type of lingerie. Some men like string bikinis, baby dolls or even nothing at all. Perhaps even just a pair of thigh highs with heels, I know I have several photos of me in just thigh highs and heels, which I know some of you love! But for me, my most favorite type of lingerie is ... corsets.
I have tons of photos of me in corsets, or even baby doll sheer tops which make me feel super sexy! I do know that soon you will have the opportunity to get one of my old pink sets for half price, I just want to give you a bit of a saving grace from being spammed on
NiteFlirt
.
I love corsets, and they make me feel so sexy! The way they cup and push my breasts up, and tighten around my stomach giving me the small waist I naturally have.
.
I really like the above type of lingerie and if you like my pictures, you will have noticed this yummy trend I have. That and I love to take my clothes off, even when we're just on the phone with each other, all I want to do is take my clothes off, so perhaps my favorite type of lingerie is none at all! You can decide what you like me in or out of.
Feedback Spotlight:
Stunning, breathtaking pics. Combine those with a call and it is the most amazing experience. A premier role-player, the best I've experienced on NF.
Saturday, September 8, 2012
How much fun would it be to share a morning sunrise over breakfast in bed with me? I had a caller describe how he would like to pamper me first thing in the morning, to let me know how much he enjoyed and appreciated the way I had serviced him the night before. I love the idea of being able to curl up in the blankets, left warm by you and basically purr myself back to that in between awake and asleep moment, basking in the warm feeling in my tight little belly knowing my man is taking care of me.
The scent of the coffee and the food drifting into the room is enough just to keep me from falling fully asleep, anticipating the wonderful flavors he would soon bring in to me. After a few delicious minutes of just enjoying the smells, I sneak even further under the covers, hearing him waking back down the hall to the bedroom. I can't make things too easy now can I? Hearing him say my name, I feel my desire starting to well up in my chest, fighting with my hunger for attention. He sets the tray down next to the bed, and opens the window, letting the morning twilight into the room. As he sits down and pulls the covers off of my head, I can't help but smile, stretch and giggle a little at him.
Not letting me move much, he is insisting on feeding me as I lay in bed, the brightening rays of the sun beginning to heat up the room, and my naked body. After a few minutes of letting him feed me, I can't stop my hands as they wander towards him, snaking under the blanket, and finding their way to the breakfast sausage I really want, hehe. As the morning sun fills the room all the way, I decide to send him to work with a smile, and pull him down on top of me, getting the enjoyment of having sex with my man to start both of our days of right.
Sound fun? Call me and tell me how you'd like to start the day with your favorite Kiwi.